I couldn't be more excited for the U.S. Open unless, like Pebble Beach last year, I was there. But no one is there, so it's the same amount of excitable-ness for everyone and the only sports event that was going to force me to exert the energy to download the Peacock App.
Attending the U.S. Open was one of my all-time favorite in person sports memories, highlighted by seeing Sepp Straka hit a golf ball (pictured below) from next to the port-a-potties and watching poor (not literally) Phil Mickelson be subjected to 54 renditions of "Happy Birthday" across the course (once per tee shot, fairway walk, and on the green). Poor dude! (Again, not literally.)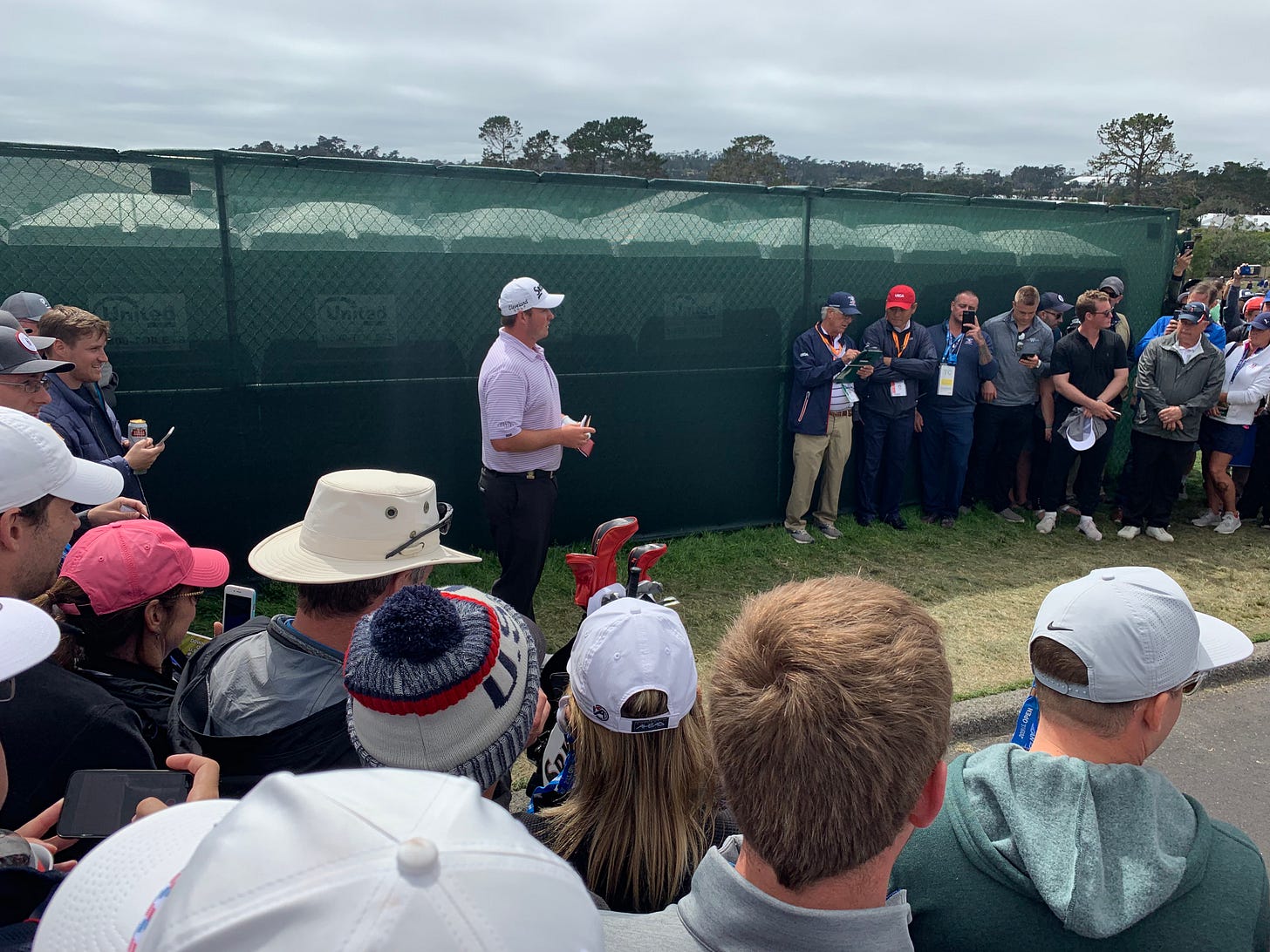 But that's not why you're here, right? You're here because you accidentally clicked a link in your Twitter feed thinking there was a real life fantasy golf expert on the other end. Whoops! No such luck! I'm just a totally random dude, chasing down that sweet DraftKings ROI action like the rest of you.
To date, here's my DraftKings resume:
Also I got some crowns or something a few times.
Full story, I play DFS Golf at a nearly break-even clip. If I didn't get impatient and enter a few Milly Makers, I would have come out around even last season. (Milly Makers tho!) I'm a Google Sheets novice who uses a 40/40/20 split for my entries (40% H2H, 40% Double Up, 20% GPP) because some article told me to do that once. I also subscribe to Data Golf for my stat fix and because I love numbers that I can barely interpret.
Anyway, that's why I'm here. I'm going to track my next year of DFS Golf as a low stakes player and see if I can develop into a good enough player that I can up the stakes and actually make some money.
I'm going to share that journey because I'm hoping you'll enjoy rooting for me or maybe even against me because it's not a true hero's journey if there isn't some type of obstacle to overcome. If you're already good at DFS (which I assume means you're a complex AI robot with no feelings or emotions) you probably won't get much out of this, OK? I know that Corey Conners is just like one putting heater away from y'all retiring to a beach, but I'm not sticking around to see it.
Here are my goals for the 2020-2021 DFS Golf Season:
Be accountable. Track everything. This effort is first and foremost about building a system designed for success

Turn a positive ROI

Stick to a strategy (40% H2H, 40% Double Up, 20% GPP)

Break up with Ben An, even though he's great at Twitter.
Before I get to some players that I like for this week, a final bit of housekeeping.
In order to build my lineups, I use what I believe is a pretty common strategy that I've seen a lot of the mainstream folks like Alex Baker of Awesemo use. Basically, the goal is to acquire as much win equity (implied probability) as you can within the boundaries of your 6 players and 50,000 fake sports bucks (If you're new to this, I'll cover it in another post.)
In other words, use a system in which you're paying the lowest price for the highest probability your player is in the Top 6 (In other words, don't pay $10,000 for a player that has a 15% probability when you can pay $10,000 for a player with a 20% probability).
That's about as high tech as I currently get (I'm working on learning about ownership projections. I get the concept more than I get the proper execution). Out of respect to Data Golf, I won't be posting their numbers here, so the players I'm highlighting are based on the implied Top 5 percentages from Sportsbook. I like to think Data Golf is more accurate, but I'm also trying to justify my subscription cost, so I'll tell myself anything.
On to the guys I'll be giving a strong look to build my lineups around this week!
Jon Rahm - $11,000 / 28% Top 5 Odds - $500 cheaper than Dustin Johnson, who is really tough to build a team around at $11,500, unless you're going to roll with Preston Summerhays, who is either a character from the Gossip Girl reboot or definitely a golfer playing in this field. With Rahm, I'm happy to anchor a team with a dude that has played every bit as well as DJ over the course of the season.
Xander Schauffele - $10,100 / 20% Top 5 Odds - Finished the 2019-2020 season 3rd in Strokes Gained. Ahead of DJ. Ahead of Rory. Ahead of Bryson. Ahead of Morikawa. Sure would be nice to see a W out of X, but I'm happy to roll with this combo of Major performance plus value. The folks at 15th Club agree.
Daniel Berger - $9,200 / 11.76% Top 5 Odds - To me, the best value in the $9,000 price range. Feels like he still gets discounted because he's still not a household name, but the performance hasn't let up.
Patrick Reed - $8,500 / 10.00% Top 5 Odds - Terrific price for Reed. Based on this price and these odds, he ranks as a better value than Jason Day, Tommy Fleetwood, Tony Finau, Tiger Woods, and Adam Scott.
Harris English - $7,900 / 5.56% Top 5 Odds - Dude finished last season 7th in Strokes Gained. He has been just as good since the restart. A little putter reliant, but the overall game is excellent in this range and it's not like that doesn't matter this week!
Abraham Ancer - $7,800 / 5.56% Top 5 Odds - Ancer had a better season than he did finish, but if I'm looking at this price point, I like his upside better than the guys surrounding him.
Sungjae Im - $7,500 / 4.76% Top 5 Odds - I'll do a deeper dive before locking him into ANY lineups because he's been rough since the restart, but I love the price for a guy who gains nearly a stroke on the field per round. I prefer getting a better approach player when I start dipping into the price range, but his OTT game has been excellent.
Honorable Mention AKA Guys I Didn't Have As Much To Say About Because They Probably Won't End Up On My Teams Except Deki Because Unlike Ben An I Can't Actually Quit Deki:
Morikawa - $10,000 / 20%
Webb Simpson - $9,700 / 13.33%
Hideki Matsuyama - $9,000 / 10.53%
Paul Casey - $7,900 / 6.67%
UNDER $7,000
My general strategy for rostering guys under 7K is looking for guys who have around 3% odds of making the Top 5 and then also hoping and praying they make the cut. Finding guys in this price range with those odds is much more difficult in a Major field, so when I actually build my lineups tomorrow, I may find myself aiming for a more balanced roster (maybe starting with X instead of Rahm, for instance).
Jason Kokrak - $6,800 / 2.44% - Great finish to the last season, with a T15, T13, and a T6 at the BMW.
Ryan Palmer - $6,600 / 2.17% - Come for the OTT and APP game, pray for the putter.
Will Zalatoris - $6,700 / 2.17% - Will The Thrill (I'm assuming everyone named Will gets this nickname) is either going to be 1.2% owned this week or 27.2% owned this week. No idea which! I'm likely to give him a lineup or two, if only because I'll have extreme FOMO if he throws a surprise Top 10 on the board. I also doubt this paragraph will age well.
Brian Harman / $6,400 / 1.96% - Like Kokrak, a strong ending to the season. He let me down a few times at the beginning of the restart, but he's a plus player (even if marginally) in all ares of his game.
Honorable Mention AKA Guys I'll Be Trying to Talk Myself Into:
Chez Reavie - $6,900 / 2.17%
Mackenzie Hughes - $6,900 / 2.17%
Max Homa - $6,400 / 1.96%
Adam Long - $6,200 / 1.96%
Those are the picks! I think! I don't know! Have you NEVER built a DraftKings lineup before and clicked and clicked until you force yourself to stop? No? Just me. Cool.
But not cooler than the time I got to use the port-a-potty next to Jamie Lovemark at Torrey Pines. Don't be jealous.
I'll be writing about golf every Wednesday and maybe some other times when I can string enough words together to share. If you'd like to follow along on my journey to (hopefully) profitability, please subscribe!